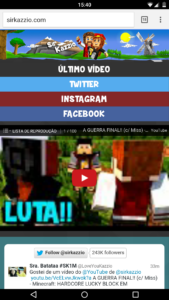 I had the opportunity to work with one of the most famous portuguese Youtubers. He wanted a page that was managed automatically, that would show his Instagram, Twitter and Facebook page, so I made a Responsive website, that has a pretty good interface in a mobile device as well.
For the buttons, I used this library. It is really well developed and keeps a clean design with apparently simple animations.
There were some tricks that were needed to make the Youtube iframe responsive, but other than that, I had no problems at all.
One thing I kept in mind was that I was going to need to improve the performance and thereafter, I reduced the quality of the header (PNG) image a bit so that it wouldn't overload the server with the amount of visits it would have. For that purpose, I used this website. I used some cache technologies on the server side that are included in my hosting plan as well.
In the launching day, it had around 3500 visits, which was trully suprising for me!
Probably hereafter he'll make a website that can be completely managed by him. But for now, this one suits perfectly.
PT
Este mês tive a oportunidade de trabalhar com um dos Youtubers mais famosos em Portugal. Ele queria uma página que fosse gerida automaticamente, que mostrasse as suas páginas de Instagram, Twitter e Facebook. Tendo em contas estas condições, decidi desenvolver um site responsivo que mantém uma interface bastante apelativa num dispositivo móvel também.
Para os botões utilizei a esta livraria. Está bastante bem desenvolvida e dá ao site um design bastante clean e animações aparentemente simples.
Foram necessários uns "truques" para fazer com que o vídeo do Youtube se tornasse responsivo, mas para além disso, não tive grandes problemas.
Tive algumas preocupações relativamente ao desempenho do website, uma vez que iria ter bastantes acessos instantaneamente. Por isso, reduzi a qualidade da imagem do cabeçalho um pouco, utilizando este website. Utilizei também umas tecnologias de cache no lado do servidor, que estão incluídas no meu plano de hospedagem.
No dia de lançamento, teve por volta de 3500 visitas, o que foi verdadeiramente surpreendente para mim.
Provavelmente no futuro será feita uma página que possa ser gerida completamente por ele, o que um pouco mais trabalho. Mas por agora, esta página serve o seu propósito completamente!
https://dmcalcada.com/wp-content/uploads/2015/03/SirKazzio.png
1080
1920
Diogo Marques Calçada
https://dmcalcada.com/wp-content/uploads/2015/07/logo2.png
Diogo Marques Calçada
2015-03-16 18:20:29
2016-06-05 18:01:24
SirKazzio